Customer reference
Automating recycling processes
More transparency in environmental taxes and excise duties: Grocery retailing must comply with various laws and provisions with large numbers of sales items being subject to stringent environmental standards. Businesses therefore have to pay environmental taxes to their recycling partners, and these differ from one country to another. Based on SAP Recycling Administration, KPS has implemented cross-border management of environmental taxes.
Interview Leonardo Musso
"We aim to establish ourselves as a top player in Europe"
Leonardo Musso, CEO, KPS AG
The editorial team at www.4investors.de obtained an exclusive interview with one of the main shareholders, Executive Board member Leonardo Musso, on the restructuring transaction, current business performance and the goal of index admission: "The priority was securing first-class investors."
Event
European Strategy Forum Retail
04.-06. April 2018, Amsterdam
European Strategy Forum Retail dives deep into customer journeys merging online and offline environments. The event will both discuss the trends and tackle the issues in the industry. At the event you will meet and exchange thoughts with C-level Executives responsible for growth strategies and business development across Europe.
Event
Retail Strategy Circle
April 25 and 26, 2018, Hohenkammer
The retail industry forum delves deep into customer journeys which are seeing the merger of online and offline environments. The meetings arranged in advance will help you to coordinate with organizations well suited to your business solutions and investment requirements.
16.02.2018
KPS confirms on the basis of the result in the first quarter of 2017/2018 the forecast for sales and earnings for the current business year
Unterföhring/Munich, 16 February 2018 – KPS AG (WKN: A1A6V4 / ISIN: DE000A1A6V48), Europe's leading management consulting firm for business transformation and process optimization in retail, posted a slight fall in sales to 38.1 million euros (Q1 2016/2017: 40.3 million euros) for the first quarter of 2017/2018 (1 October 2017 to 31 December 2017). One of the main reasons responsible for this was the disproportionate resource reduction at an important major customer, which could not be entirely compensated over the short term with new project initiatives. In spite of this development, sales were approximately at the level of the equivalent year-earlier period.
12.02.2018
Envoy Digital Ltd. becomes part of KPS AG
London/Munich, 12 February 2018 – KPS AG (WKN: A1A6V4 / ISIN: DE000A1A6V48), the European market leader in digital transformation for retail, takes over Envoy Digital Limited, one of the leading agencies for omnichannel e-commerce in the United Kingdom.  The takeover continues the international expansion strategy of KPS AG and extends its leading market position as a consultant for digital transformation in Europe.
General Meeting
Ordinary Annual General Meeting on 23 March 2018
Invitation to the ordinary Annual General Meeting
Erläuterungen für die Aktionäre

Articles of Incorporation
Annual reports
Insiderinformation
Announcement of insider information pursuant to Article 17 of the Regulation (EC) Nr. 596/2014
Friday, February 9, 2018
KPS AG: Acquisition of the entire issued share capital of Envoy Digital Limited
31.01.2018
KPS AG publishes Annual Report 2016/2017 – Dynamic growth outperforms competition
Unterföhring/Munich, 31 January 2018 – KPS AG publishes its Annual Report for 2016/2017 today along with information about the forecast for 2017/2018. Group sales increase in the business year 2016/2017 to 160.3 million euros (previous year: 144.9 million euros). Group EBIT goes up to 24.8 million euros (previous year: 22.3 million euros). The equity ratio is 64.3 % (previous year: 61.4 %). Dividend proposal per share goes up by 6 % to 35 eurocents (previous year: 33 eurocents).
29.01.2018
KPS appointed first SAP Concur Customer Implementation Partner Nordics
SAP Concur announced first mover as CIP for the T&E cloud solution
Munich, January 29, 2018. SAP selected KPS as the first Customer Implementation Partner (CIP) authorized to sell and implement SAP Concur Solutions in the Nordics. The first mover and SAP strive for a seamless and efficient collaboration. Customers already using SAP benefit from a standardized integration best practice package reducing runtime and cost.
Dr. Michael Mirz Special report on the "retail" sector
The digitalized customer journey becomes reality
Retailers have never known as much about the customer journey as they do today – how buyers make purchase decisions, what patterns they follow when switching between online and offline channels, which dispatch and returns methods they prefer or which loyalty schemes they use most often. Despite all of this, it has never been so challenging to achieve customer loyalty. Why is that?
Insiderinformation
Announcement of insider information pursuant to Article 17 of the Regulation (EC) Nr. 596/2014
Thursday, January 18, 2018
KPS AG: Prolongation of the appointment of Mr. Leonardo Musso as member of the management board (Vorstand) until the end of December 31, 2021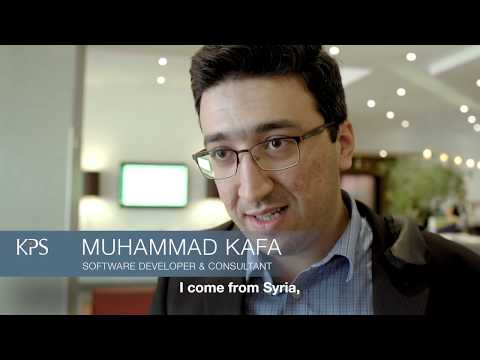 youtube.com/watch?v=D0rNGCsVUxA
Insiderinformation
Publication of insider information pursuant to Article 17 Market Abuse Regulation (MAR)
Wednesday, December 14, 2017
KPS AG: Acquisition of all shares in INFRONT Consulting & Management GmbH
07.12.2017
CHRIST achieves record orders on Black Friday
The jeweler CHRIST – record orders on Black Friday
Munich, December 7, 2017. The jeweler CHRIST achieved a new record level of orders on Black Friday.
SAP CLOUD
Make Procurement awesome with SAP Ariba and KPS
SAP Ariba is the World's leading provider of procurement solutions in the cloud. It integrates the entire buying process across the organization, removes complexity and allows buyers and suppliers to manage everything from contracts to payments all in one place.
06.11.2017
Digital eco-systems for smart cooperation
Munich, 06. November 2017 - From interconnected smart home solutions, which send an SMS if smoke is detected, to e-mobility charging stations, innogy SE provides a wide range of services for life in the smart city.