Event
dmexco 2017: Lightening the age of transformation
It's not a Trend – it's a Movement!
Under the slogan "Lightening the Age of Transformation", the 2017 dmexco conference will take place on 13 and 14 September 2017 with KPS at the partner stand of SAP Hybris in hall 7, stand C11 at the "Koelnmesse" trade fair.
11.08.2017
KPS continues successful growth in the 3rd quarter of 2016/2017
Unterföhring/Munich, 11 August 2017 – KPS AG successfully continued its growth in the 3rd quarter of 2016/2017. As a result of the ongoing internationalization of its business model, Group sales increased by 3.4 percent compared to the same quarter of the previous year to 39.7 million euros (Q3 2015/2016: 38.4 million euros).
01.08.2017
ICE Consultants Europe SL to become part of KPS AG
KPS consequently pursuing its strategy of internationalization
Barcelona/Munich, August 1, 2017 – KPS AG, the European market leader in retail transformation consulting, has acquired ICE Consultants Europe SL, a leading Spanish SAP consulting partner. ICE will become a 100% subsidiary of KPS AG effective October 2, 2017. The acquisition strengthens KPS's position as a leading consultancy for digital business transformation in Europe.
30.06.2017
KPS AG: Expanding the scope of shareholders through reallocation of 4,390,000 shares
Unterföhring/Munich, 30 June 2017 - With the participation of ODDO SEYDLER BANK AG, Frankfurt am Main, the four founders and principal shareholders of KPS AG (ISIN: DE000A1A6V48), Michael Tsifidaris, Dietmar Müller, Leonardo Musso and Uwe Grünewald, reallocated a total of 4,390,000 KPS shares to the institutional investors Allianz Global Investors, DWS, and Union Investment. 
20.06.2017
KPS helps put furniture retailer POCO on growth trajectory
SAP accounting system provides the basis for international growth
Munich, June 20, 2017. The furniture retailer POCO has migrated its accounting system to SAP in just eight months, thus establishing the basis for international expansion. The successful migration was carried out by KPS's transformation experts who, in cooperation with POCO specialists, implemented the new SAP accounting system and ensured the simultaneous changeover of all companies.
youtube.com/watch?v=wXnCyOy7Ieg
CUSTOMER EXPERIENCE
FROM FIRST LOOK TO LAST MILE
Market report Customer journey
Retailers have never known more about the consumer journey; how they research purchases; how they move between online and offline channels; their preferred delivery and return methods; what loyalty benefits they redeem most frequently. Yet, it has never been harder to retain customers.
Why is this?
02.06.2017
KPS named one of the best consultancies for the fourth time in a row
Munich, 02.06.2017. KPS once again achieved a top position in the major German consulting survey conducted by brand eins and Statista. KPS was named the best consultancy in the consumer goods and retail category as well as in the IT strategy and IT implementation category.
23.05.2017
KPS doubling its office space in Dortmund and relocating to PHOENIX See in 2019
Munich, May 23, 2017. With its relocation to new offices at PHOENIX See scheduled for early 2019, KPS is creating space for further growth and intensive collaboration with customers here in Dortmund. Customers will have the opportunity to gain an insight into the design process at specially constructed design centers.
11.05.2017
KPS is in 8th position in terms of the e-commerce agencies with the highest revenues
Munich, May 11, 2017. KPS is continually climbing in the e-commerce ranking of the sector association "Bundesverband Digitale Wirtschaft" (BDVW), moving to 8th place in this year's ranking.
03.05.2017
Ochsner Sport focuses on mobile customers
Munich, May 03, 2017. The Swiss sports retailer Ochsner has completely revamped its online shop optimizing it for mobile users. The market leader for sports goods in Switzerland is systematically implementing its omnichannel strategy and providing its customers with a completely new online shopping experience. Ochsner Sport received support from KPS's digital experts.
At a glance
Europe's leading management consultancy for the retail sector
We help our clients introduce innovative new strategies and processes faster and more efficiently, securing their long-term competitive edge.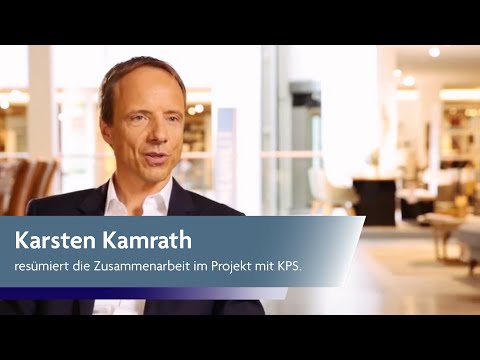 youtube.com/watch?v=6cQzQOXH1ew
Leading in transformation
Industry focus delivers innovative solutions
What sets the best apart from the rest? Companies that succeed concentrate on the capabilities that differentiate them from the competition and give them their competitive edge. This also applies to business processes and the deployment of technologies. And to their consulting partners.
Master data
Is Poor Data Quality Hindering Digital Transformation?
Data is the raw material of the 21st century. It is the foundation and driver of the digital transformation and forms the basis of value creation in our post-industrial economy. The more dependent we become on data, the more important the quality of this data becomes. As the volume of data available increases rapidly, the small subset of relatively constant data known as master data plays a special role.
KPS RT4.0
KPS Rapid Transformation – up to 50% faster
Lars Radoor Sørensen, COO PUMA: The waterfall approach doesn't work. KPS Rapid Transformation reduces complexity and helps you achieve your goals faster. Speed is a crucial factor in today's markets.
Omnichannel
Fashion: the opportunities of digitization and verticalization
The fashion trade is the largest and fastest-growing segment in online retailing. In recent years, it has undergone fundamental structural change worldwide. Intense verticalization and the inexorable advance of online retailing have radically changed the competitive landscape.