SAPHIRA Consulting A/S - som Computerworld for andet år i træk har kåret til en af Danmarks bedste SAP integratorer
Saphira Consulting A/S, som Computerworld for andet år i træk har kåret til en af Danmarks bedste SAP integratorer, er nu en del af KPS Gruppe - europæisk markedsleder indenfor digital business transformation.
Interview Leonardo Musso
"We aim to establish ourselves as a top player in Europe"
Leonardo Musso, CEO, KPS AG
The editorial team at www.4investors.de obtained an exclusive interview with one of the main shareholders, Executive Board member Leonardo Musso, on the restructuring transaction, current business performance and the goal of index admission: "The priority was securing first-class investors."
Event
LogiMAT 2018
March 13 to 15, 2018, Stuttgart
LogiMAT, an international trade fair for intralogistics solutions and process management, sets new standards as the largest annual intralogistics exhibition held in Europe. It is the leading international trade fair in this field providing a complete market overview and expert knowledge transfer.
Event
Technology never sleeps – KPS auf der EUROCIS
February 27 to March 1, 2018, Düsseldorf
Technological progress never stops because curious and creative minds are always producing innovation. As the people of the early 21st century, we are experiencing the fourth industrial revolution right now which will result in far-reaching changes in all areas of our lives.
16.02.2018
KPS confirms on the basis of the result in the first quarter of 2017/2018 the forecast for sales and earnings for the current business year
Unterföhring/Munich, 16 February 2018 – KPS AG (WKN: A1A6V4 / ISIN: DE000A1A6V48), Europe's leading management consulting firm for business transformation and process optimization in retail, posted a slight fall in sales to 38.1 million euros (Q1 2016/2017: 40.3 million euros) for the first quarter of 2017/2018 (1 October 2017 to 31 December 2017). One of the main reasons responsible for this was the disproportionate resource reduction at an important major customer, which could not be entirely compensated over the short term with new project initiatives. In spite of this development, sales were approximately at the level of the equivalent year-earlier period.
12.02.2018
Envoy Digital Ltd. becomes part of KPS AG
London/Munich, 12 February 2018 – KPS AG (WKN: A1A6V4 / ISIN: DE000A1A6V48), the European market leader in digital transformation for retail, takes over Envoy Digital Limited, one of the leading agencies for omnichannel e-commerce in the United Kingdom.  The takeover continues the international expansion strategy of KPS AG and extends its leading market position as a consultant for digital transformation in Europe.
General Meeting
Ordinary Annual General Meeting on 23 March 2018
Invitation to the ordinary Annual General Meeting
Erläuterungen für die Aktionäre

Articles of Incorporation
Annual reports
Insiderinformation
Announcement of insider information pursuant to Article 17 of the Regulation (EC) Nr. 596/2014
Wednesday, February 6, 2018
KPS AG: Acquisition of the entire issued share capital of Envoy Digital Limited
31.01.2018
KPS AG publishes Annual Report 2016/2017 – Dynamic growth outperforms competition
Unterföhring/Munich, 31 January 2018 – KPS AG publishes its Annual Report for 2016/2017 today along with information about the forecast for 2017/2018. Group sales increase in the business year 2016/2017 to 160.3 million euros (previous year: 144.9 million euros). Group EBIT goes up to 24.8 million euros (previous year: 22.3 million euros). The equity ratio is 64.3 % (previous year: 61.4 %). Dividend proposal per share goes up by 6 % to 35 eurocents (previous year: 33 eurocents).
29.01.2018
KPS appointed first SAP Concur Customer Implementation Partner Nordics
SAP Concur announced first mover as CIP for the T&E cloud solution
Munich, January 29, 2018. SAP selected KPS as the first Customer Implementation Partner (CIP) authorized to sell and implement SAP Concur Solutions in the Nordics. The first mover and SAP strive for a seamless and efficient collaboration. Customers already using SAP benefit from a standardized integration best practice package reducing runtime and cost.
Dr. Michael Mirz Specialudgave for branchen »Handelsvirksomheder«
Den digitaliserede Customer Journey bliver til virkelighed
Aldrig har forhandlerne vidst så meget om Customer Journey - kundernes beslutningsvej - som i dag: Hvordan de forbereder deres købsbeslutning, hvilke mønstre de følger ved skift mellem on- og offline-kanaler, hvilke former for forsendelse og returnering de foretrækker, og hvilke rabatkuponer de oftest gør brug af. Alligevel har det aldrig været vanskeligere at skabe loyale kundekontakter end i dag. Men hvorfor er det sådan?
Insiderinformation
Announcement of insider information pursuant to Article 17 of the Regulation (EC) Nr. 596/2014
Thursday, January 18, 2018
KPS AG: Prolongation of the appointment of Mr. Leonardo Musso as member of the management board (Vorstand) until the end of December 31, 2021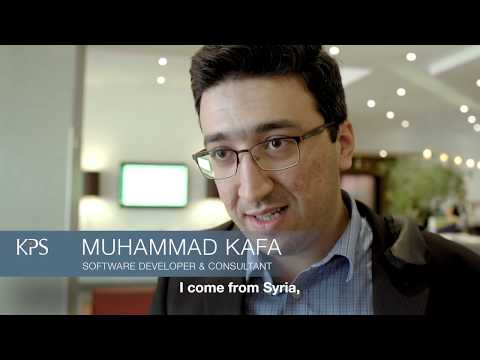 youtube.com/watch?v=D0rNGCsVUxA
Insiderinformation
Publication of insider information pursuant to Article 17 Market Abuse Regulation (MAR)
Wednesday, December 14, 2017
KPS AG: Acquisition of all shares in INFRONT Consulting & Management GmbH
07.12.2017
CHRIST med rekordstort antal bestillinger på black friday
Juveler CHRIST: Bestillingsrekord på black friday
München, 7. december 2017. Den tyske juveler- og urmagerkæde CHRIST oplevede på dette års black friday en ny rekord i antallet af bestillinger.  
SAP CLOUD
Sænk omkostningerne og øg overskuddet med strategisk indkøb.
Store muligheder med SAP Ariba - en cloud-baseret indkøbsplatform. Strømlin indkøbsprocesserne, minimer dine risici og optimer omkostningsstyringen med workflows, der effektivt understøtter samarbejdet med dine leverandører.
06.11.2017
Digitale økosystemer for et smart samarbejde
München, 06. November 2017 - innogy SE tilbyder diverse tjenester til livet i en smart city - alt lige fra internetopkoblede smarthome-løsninger, der for eksempel sender en sms i tilfælde af røgudvikling, til ladeaggregater til eldrevne køretøjer.